Double block and bleed valve design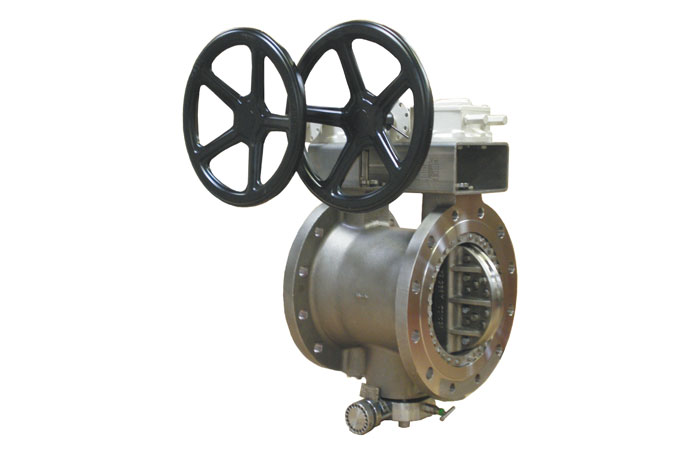 Products in this category...
The Hobbs triple offset butterfly is available as a double block and bleed body pattern which can be supplied with drilled and tapped holes or through drilled holes to suit specific site standards.
Due to the torque seating we would normally supply a manual override gearbox for size 4" and above which would allow 5° over travel to guarantee tight shut off. This style of valve is ideal for confirmation of pipeline isolation particularly useful during overhaul and maintenance of registered pipelines when tank or vessel isolation may be required without full drainage.
This particular valve can be supplied with dual automation and be able to provide on / off and ESD functions within one compact unit.
| | |
| --- | --- |
| Pressure Rating | Class 150 / 300 / 600 (class 900 in development) |
| Materials | ASTM A216 WCC & WCB, ASTM A352 LCB & LCC, ASTM A351 CF8M & CF8, ASTM A217 WC6 & WC9, Duplex, Super Duplex, Nickel Aluminium Bronze & Titanium |
| End Connections | To suit ANSI flanges – ASME B16:5 up to 24", ASME B16:47 26" and above |
| Size Range | 2" to 48" |
| Seat Materials | Metal seated as standard |
Although triple offset butterfly valves have been available for a number of years very few can compete with the certain patented design features of the Hobbs range of bubble-tight shut off triple offset butterfly valves.

The main design feature was the introduction into the valve of the disc bolted around a square shaft eliminating the need for pins or keys to maintain the integrity of the disc / stem arrangement. When constructed having the seat located within the valve body rather than on the valve disc Hobbs are able to offer bi-directional operational sealing.

The Hobbs valve is fast becoming the first valve to select due to the reliability and quality of the finished valve product. Impressive cost savings can be made when considering the Hobbs triple offset valve when comparing to larger diameter ball valves are gate valves.

The valve is also now being used on steam applications due to the metal seat arrangement and by providing positive bubble-tight isolation.