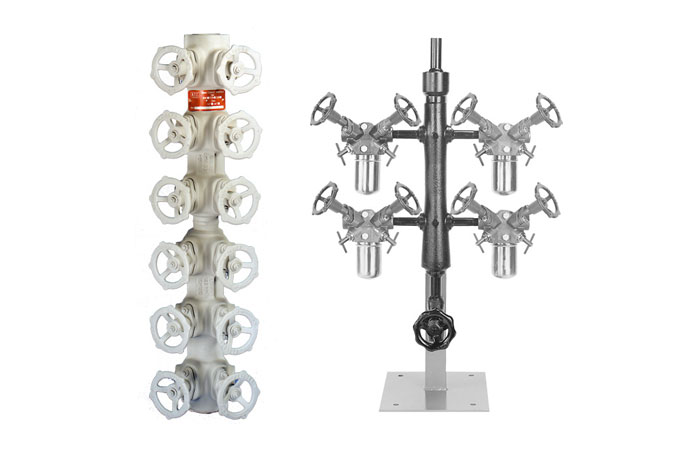 Products in this category...
Armstrong offer a full range of steam distribution and condensate collection manifolds to assist in simplifying our customer's site pipe tracing systems and further reduce installation costs.
The steam distribution manifold can offer a centralised steam supply system which will allow for easier maintenance and inspection along with ease of operation as the manifold utilising the sealing capabilities of the piston for isolation.
The condensate collection manifolds can be provided with a complete an isolation valve combined with a suitable steam trap all in a single assembly. A trap can be selected to suit the application or site standard for condensate trapping and return.
| | |
| --- | --- |
| Operating Pressure | 32Barg (464psi) @ 400°C (752°F) |
| Inlet Connections | Steam: 1 1/2" Socket weld or Flanged. Condensate: 1 1/2" or 2" Socket weld or Flanged. |
| Outlet Connections | Steam: 1/2" socket weld in either 4, 8 & 12 branch outlets. Condensate: 1/2" or 3/4" socket weld or NPT in either 4, 6, 8, 10 & 12 branch outlets. |
| Drain Connection | Steam: 3/4" socket weld. Condensate: 3/4" socket weld or NPT. |
| Isolation Valves | Piston type |
| Manifold Material | ASTM A105 |
| Optional Extra | Steam: Inverted bucket trap for condensate drain. Condensate: Integral trap valve stations, Drain valve, Insulation jacket. |
Armstrong International are recognised as being one of the highest
quality manufacturers of steam equipment in the world and are able to
offer steam solution to suit the majority of steam application from LP
to super heated.
By working closely with Armstrong we are able to provide equipment to assist with steam tracing, condensate removal and also air venting from our customers piping systems.
To offer further support we are able to carry out steam trap surveys to allow our customers to monitor trap performance and implement replacement programsfor inefficient or failing steam traps which have a huge cost
attributed to them during a 12 month period.
We are also able to offer shell & tube heat exchangers as well as plate heat exchangers to suit particular process applications which can be provided fully skidmounted with all relevant reducing, safety & control valves to manage the heat transfer as efficiently as possible.